You don't need the most expensive equipment available, or even millions of subscribers, in order to make money with video content. Nowadays, we can all be video creators simply by using our smartphones and talking to a niche group of people that share our interests. If you've found yourself intrigued by YouTube (do content creators really get paid per view?), but have no idea how to begin — or you think you simply don't have the audience or video creation chops to cut it — we're here to help.
Whether you're angling to be the next vlogging superstar or you just want to supplement your income with a video-creation side gig, read on for simple steps to achieve video greatness.
Starting is the Hardest Part
This advice may sound self-evident, but hear us out: if you want to make any amount of money through video content, you need to actually create and upload videos. For many of us, there just isn't enough time in the day to shoot, edit, and upload; it's yet another task on an ever-increasing list. The good news is that your videos don't have to be perfect, they just need to be authentic. Remember, the only person who can offer your unique voice and perspective is you. So come from a place of authenticity, and just start making!
If you already know what you want your videos to be about, you're already ahead of the game! If you don't, let's start with a small brainstorming task. What are your interests? What are you passionate about? Is there some skill, craft, or advice you can offer others, like how to draw or how to build a website? Make a list of everything you enjoy, everything you're good at, and any gap in knowledge you could potentially fill. You'll start to see where your skills, interests, and greater public needs intersect. The more truthful you are with yourself during this process, the more authentic your video content will be. 
Once you've honed in on your video content, it's time to create a schedule for yourself to stay on track with regular shoots, edits, and uploads. Remember, you don't need a fancy, state-of-the-art camera, or even the latest video editing software to do this. Most smartphones today offer picture quality and editing capabilities comparable to sophisticated film equipment. Especially if you're just starting out, you shouldn't need expensive gear. Commit to regular uploads, so your audience knows what to expect. When in doubt, forgo the glitz and glam, and opt for consistency.  
Build Your Audience
Once you've developed and maintained your content schedule, now let's figure out how to grow those subscriber numbers so you can monetize your YouTube channel.
This is where your hard work in the first step really comes in handy — if you have a specific thing you can offer through your videos, you are more likely to find an audience. Don't worry about trying to cater to every taste, just speak to what you know and your audience will naturally find you. Stick to your voice and your content will inevitably be much stronger compared to those simply looking to placate the masses. Specialization doesn't need to come at the expense of growth! You can continue to reach new people by trying some of the following:
Engage with your audience: Read and respond to comments you receive both on the YouTube platform itself and on other social media platforms you use to promote your content.
Use a unique domain name to stand out: .tube domains are a great way to shorten your YouTube URL to something easy-to-remember and easy-to-promote. A .tube domain provides an unprecedented opportunity to brand yourself and makes it easy for people to find your videos online. Search for your perfect domain today.
Customize your video thumbnails: The thumbnail is the first visual people see before they even click on your video. If it's boring, they'll just keep scrolling. So make it count!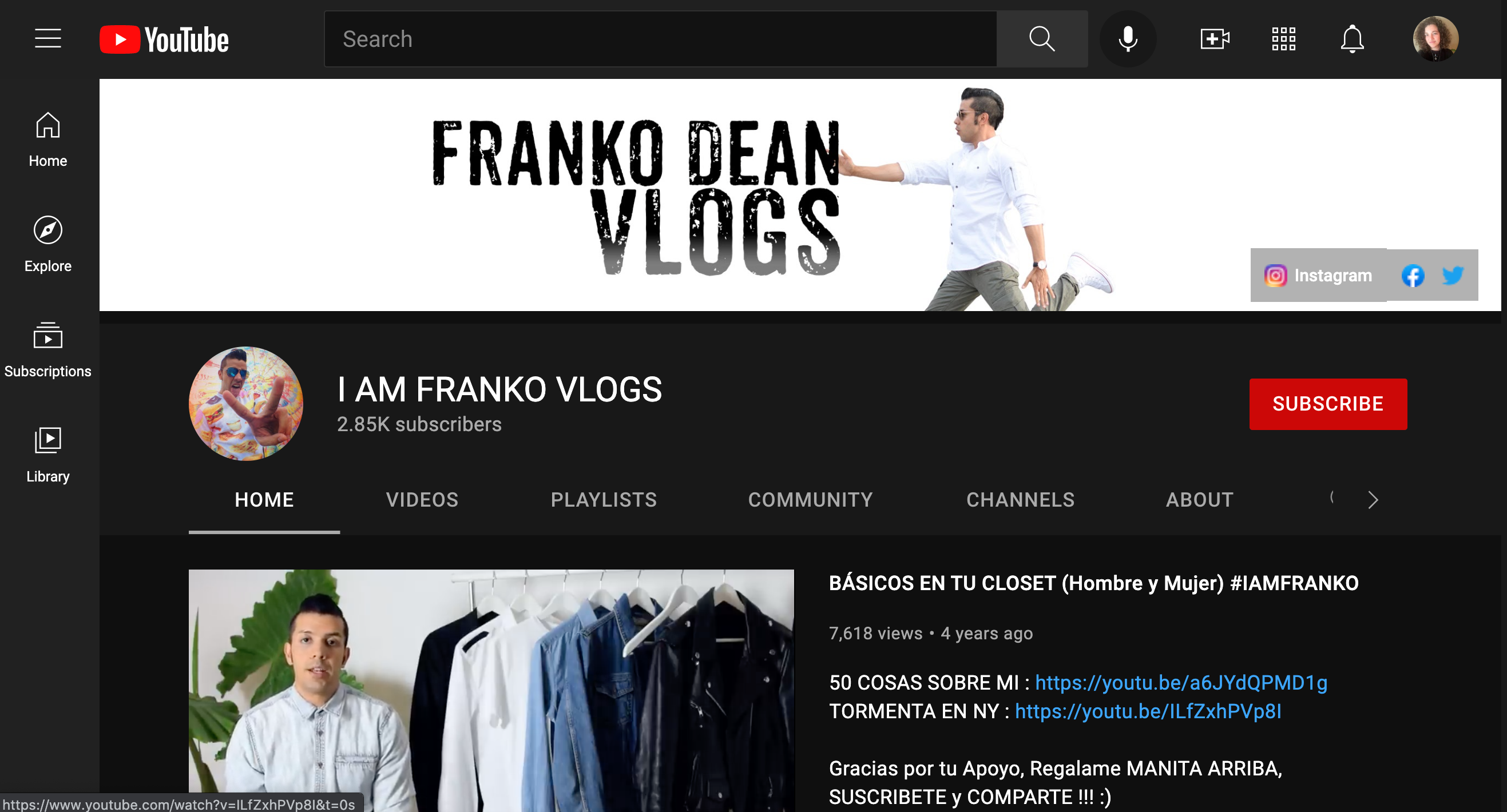 Porkbun customer Franko Dean found a unique way to promote his YouTube account and grow his audience with a custom .tube domain that redirects to his personal YouTube channel. By using franko.tube on his Instagram and Twitter profiles, Franko made it easier for people to find his videos and remember his name.
To monetize your YouTube account and become a YouTube partner, there are two important milestones you must first achieve. You will need 1,000 subscribers and 4,000 watch hours over the past year. Once you have hit those marks, simply enable the monetization option within your YouTube account to start earning money.
A common misconception regarding the YouTube partner program is that you earn money for every video view — that is not the case. Through this program, advertisers will be able to overlay their pop-up ads on your videos and, if a viewer clicks the ad, then you will get paid. So, in order to monetize your videos further, you will need to leverage your audience in other ways.
Making Money Outside of YouTube
Once you have built up your audience on YouTube, you can create alternative revenue streams for yourself. Start selling merchandise with an online store. Ask your audience to support you through "fan funding" (think of sites like Patreon, where users pay a monthly fee to support their favourite creators). Leverage your knowledge to work with like-minded brands and promote their products to your audience. License the use of your videos to the media. Explore affiliate marketing opportunities where you advertise products through a link on your website, newsletter, or video description and get paid either per click or per purchase.
Streamlining Your Brand
To get started on developing your website, simplify your domain search, and start here. From there, it's easy to set up a website using our range of site builders and hosting solutions from personal brands to established companies alike. Choose your preferred hosting plan, and try it out for free. After the free trial, you could even be paying a very low cost of $3-$5 per month!
It's never been easier to set up a website and personal brand. And with a custom email address that matches your .tube domain, no longer do you have to use that generic yahoo or gmail address. Elevate your professionalism and streamline your online presence around your .tube domain to create one seamless brand.
By combining several of these tactics, you can start making money both within YouTube's platform and outside of it. Before you know it, you'll be able to supplement your income simply by being yourself and sharing your video content. And who knows? Perhaps you'll become the next Jeffree Star and be the richest YouTuber in the world.
Take the leap. Start your .tube journey today.